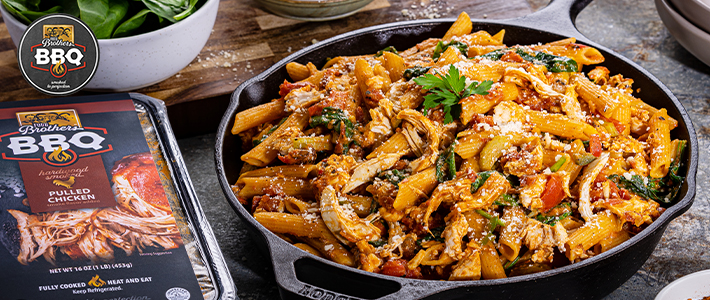 Four Brothers BBQ Cajun Chicken Pasta
Ingredients
1 Pkg. (8.8 ounces) Red Lentil Penne Pasta
1 Can (14.5 ounces) Diced Tomatoes With Green Pepper, Celery & Onion
1 1/2 C. Four Brothers® BBQ Pulled Chicken
1 Tbsp. Cajun Seasoning
2 C. Packed Baby Spinach
1/4 C. Grated Parmesan Cheese
Instructions
Prepare pasta as label directs; drain, return to saucepot and cover.
In large skillet, cook tomatoes, chicken and seasoning over medium heat 4 minutes or until heated through, stirring occasionally. Add spinach; cover and cook 1 minute or until spinach is wilted. Stir tomato mixture into pasta. Makes about 8 cups.
Serve pasta sprinkled with cheese.