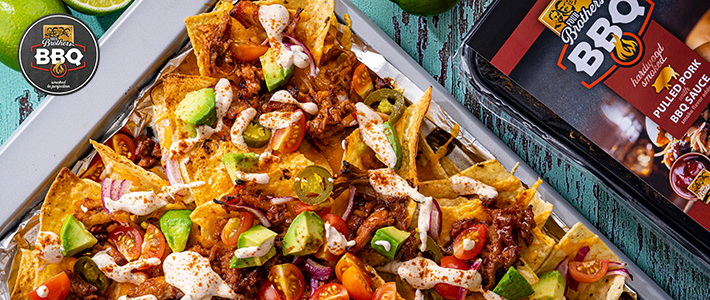 Four Brothers Grilled Pulled Pork Nachos with Smoky Crema
Ingredients
1/2 (13-ounce) Bag Four Brothers® Corn Tortilla Chips
3 C. Four Brothers® BBQ Pulled Pork with BBQ Sauce
2 C. Shredded Cheddar Cheese
1/2 C. Chopped Red Onion
1/2 C. Drained Pickled Jalapeño Pepper Slices
3/4 C. Sour Cream
2 Tbsp. Fresh Lime Juice, plus wedges for garnish (optional)
1 tsp. Smoked Paprika
1/2 tsp. Garlic Powder
1/4 tsp. Salt
1/4 tsp. Ground Black Pepper
1 Medium Avocado, peeled, pitted and chopped
1 C. Cherry Tomatoes, quartered
Instructions
Prepare outdoor grill for direct grilling over medium heat. In high-sided, 9 x 13-inch aluminum foil pan, layer half each of the chips, pork, cheese, onion and jalapeños; repeat layers. Place pan on hot grill rack; cover and cook 8 minutes or until cheese melts and edges are golden. Makes about 10 cups.
In small bowl, stir sour cream, lime juice, paprika, garlic powder, salt and black pepper. Makes about 3/4 cup.
Serve nachos topped with avocado, tomatoes and crema garnished with lime wedges, if desired.
Notes
The perfect tailgate dish!