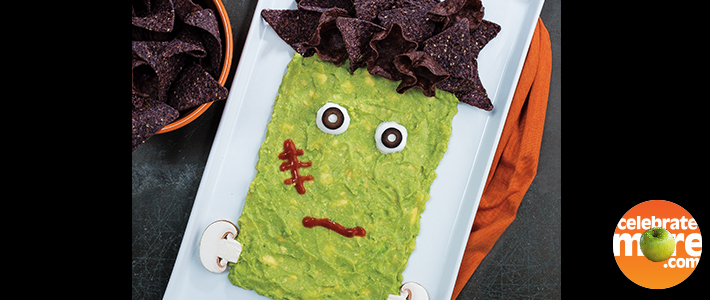 Serving Size
¼ cup dip, 1 cup chips
Ingredients
2 Cups Avocado, chopped
2 Tbsp. Fresh Lime Juice
¼ tsp Salt
1 Tbsp. Mild Taco Sauce plus additional for serving (optional)
1 Tbsp. Plain Nonfat Greek Yogurt plus additional for serving (optional)
2 (¼-inch-thick) Slices Cremini Mushroom
2 Black Olive slices plus additional for serving, canned (optional)
1 Bag (9 Oz.) Blue Corn Tortilla Chips
Instructions
In small bowl, mash avocado, lime juice and salt with fork.
Place taco sauce and yogurt in 2 separate small zip-top plastic bags; snip bottom corner of each bag.
On serving platter, spread avocado mixture into a 5 x 6-inch rectangle. Place 1 mushroom slice toward bottom of each side of rectangle for "bolts." Pipe yogurt on avocado mixture to make 2 "eyeballs;" place olive slices on "eyeballs" for "pupils." Pipe taco sauce on avocado mixture to make "mouth" and "stitches."
Arrange 2 cups tortilla chips across top of avocado mixture to make "hair;" serve with remaining tortilla chips and additional taco sauce, yogurt and olives, if desired.
Percent Daily Values are based on a 2,000 calorie diet. Your daily values may be higher or lower depending on your calorie needs.