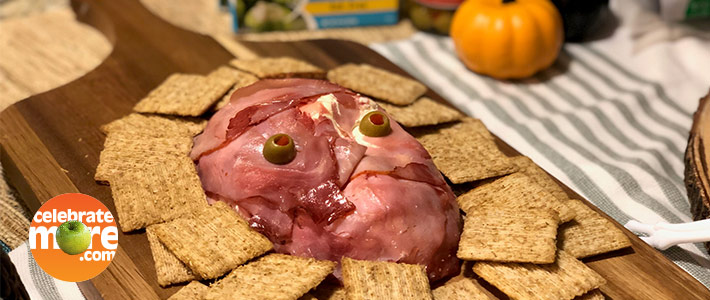 Freaky Flakey Face Cream Cheese Dip
Ingredients
Nonstick Spray
1/2 lb. Deli Meat, lower sodium
Two 8 oz. Blocks of Low Fat Cream Cheese, softened
1/4 Cup Culinary Tours New York Style Everything Bagel Seasoning
Green Olives, with pimentos, sliced
Suggested Serving Options: Carrot sticks, Pita Bread, Whole Wheat Crackers
Instructions
Spray a plastic face shaper from the craft store or Amazon with a spray oil.
With the face of the mask facing down, layer your favorite deli meat over the face shaper.
In a medium bowl, add softened cream cheese and Everything Bagel Seasoning. Mix well until well-combined.
Evenly spread softened cream cheese over deli meat in the face-shaper.
Flip face shaper over onto a large plate or serving board. Carefully remove face shaper from your 'dip.'
Add green olive slices to your 'dip' where the eyes are.
Serve with your favorite dippers such as carrot or celery sticks and/or pita or whole wheat crackers.