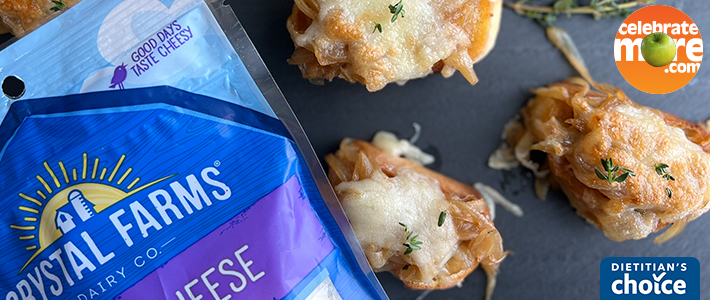 Ingredients
1 Loaf Crusty Bread, cut into pieces with 1/2 inch width
2 Tbsp. Olive Oil
4 Small Onions, thinly sliced
1 C. Low-Sodium Beef Broth
6 Sprigs Fresh Thyme
6 oz. Crystal Farms® Shredded Swiss Cheese
Instructions
Preheat oven to 375°F.
Slice bread, arrange on prepared baking sheet, and brush with olive oil. Bake for 3-5 minutes, flip, and bake 3-5 minutes more.
Heat olive oil in a deep pan over medium heat and add onions.
Stir slowly to caramelize, this will take about 30 minutes. Be sure to continue stirring, so that the onions don't stick to the bottom of the pan.
While the onions are cooking, turn on the broiler to preheat.
Slowly add beef broth to the pan with caramelized onions 1/4 cup at a time. Continue stirring until the onions absorb the liquid.
Add fresh thyme leaves and remove from heat.
Top the bread pieces with the onion mixture.
Top each piece with 2-3 Tbsp. of Crystal Farms® Shredded Swiss Cheese.
Broil for 3-5 minutes, or until the cheese is browned and bubbling. Allow to cool and top with additional thyme leaves, if desired!