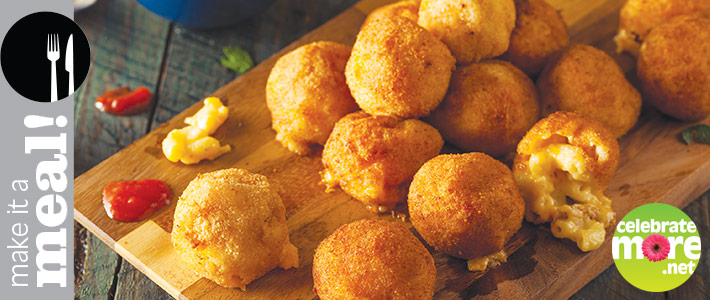 Fried Mac & Cheese Bites
Mac & Cheese:
1 ½ cups elbow macaroni, uncooked
3 tbsps butter, unsalted
1 tbsp all-purpose flour
½ tsp salt
1 cup milk
1 ½ cups shredded cheddar cheese
nonstick cooking spray
Fried Bites:
¼ cup all-purpose flour
2 large eggs, beaten
¾ cup plain breadcrumbs
vegetable oil
Directions:
Cook pasta according to package directions.
Meanwhile, melt butter in saucepan. Stir in flour and salt. Cook on medium-low heat, stirring constantly, until mixture bubbles.
Slowly whisk in milk, stirring constantly, until smooth.
Bring to a boil; reduce to low heat and simmer for 1 minute.
Stir in shredded cheese until melted; remove from heat and fold in cooked pasta.
Spray 6 inch square pan with cooking spray. Spoon macaroni mixture into pan; packing lightly. Chill for at least 1 hour or until cooled.
In 3 separate bowls, place flour, eggs and breadcrumbs.
Cut chilled macaroni into bite size pieces.
Cover each bite size piece lightly into flour, then dunk into eggs and finish by covering with breadcrumbs.
Heat oil on stove or in deep fryer. Fry in batches for 1 – 2 minutes per side.
Drain on paper towel and serve hot.
*Recipe adapted from Crystal Farms