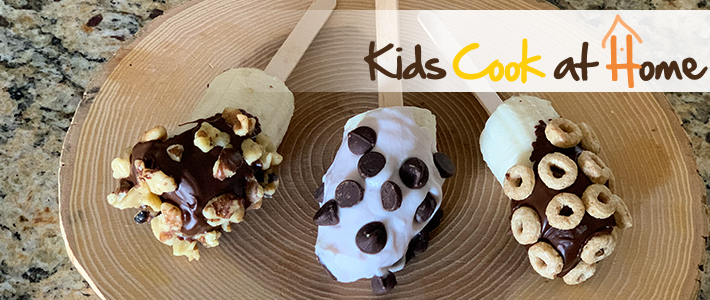 Serving Size
1 Frozen Banana Pop
Ingredients
1 Banana, cut into 3 chunks
1/2 Cup Chocolate Chips, melted
1 Cup Strawberry Greek Yogurt
Optional Toppings
Chocolate Chips
Whole Grain Cereal
Crushed Nuts (Walnuts, Almonds, Pecans, etc.)
Instructions
Wash hands and fresh produce thoroughly before getting started.
Carefully cut the banana into 3 equal chunks. Peel each piece and stick a craft stick/popsicle stick into each piece. Place in the freeze on a piece of parchment paper while you prepare the dips and toppings.
Melt chocolate chips in microwavable bowl for 15-30 seconds; repeat until chocolate is smooth and fully melted. Place your toppings of choice in small bowls for easy dipping.
Remove your chilled banana pops from the freezer and add the dips & toppings. Some suggested serving options include: 1.) Dip into melted chocolate and top with chopped nuts. 2.) Dip into vanilla yogurt and add chocolate chips. 3.) Dip into melted chocolate and add whole grain cereal.
Place frozen banana pops back into the freezer for 30 minutes to 1 hour to let set. Enjoy!