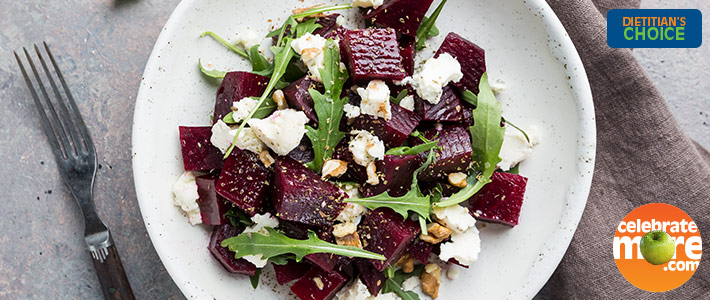 Ghostly Goat Cheese and Mysterious Beet Salad with Toasted Pistachios
Ingredients
6 beets
1 1/2 Tbsp Extra Virgin Olive Oil
1/2 tsp Salt
4 Cups Arugula, washed
4 oz Soft Goat Cheese, crumbled
1/2 Cup Pistachios, shelled and toasted, coarsely chopped
2 Tbsp Bolthouse Farms Balsamic Dressing
Instructions
Preheat the oven to 350.
Prep the beets by cutting off the tops and scrubbing them under running water. Cut them into bite sized pieces. Place the beets in a single layer on a baking dish lined with aluminum foil. Drizzle with olive oil and salt and toss to combine.
Roast the beets in the oven for about 45-60 minute, turning several times. The beets will be tender and easily pierced with a fork when done. Set aside and let cool to room temperature.
On each plate, layer a bed of arugula leaves and roasted beets, topped with goat cheese and chopped pistachios. Drizzle lightly with balsamic dressing. Enjoy!