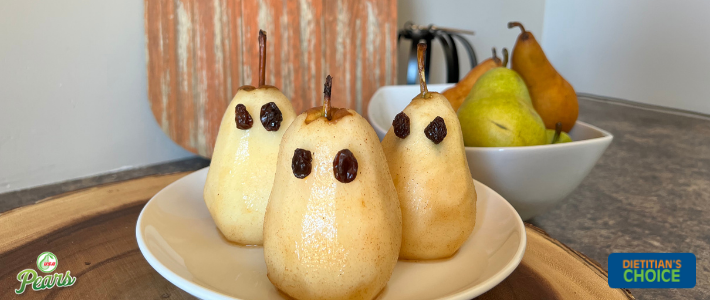 Have you ever poached pears before? They are delicious! Here is a Baked Poached Pear recipe you'll love on a crisp fall day. It's the same flavors as a poached pear, but we're simplifying the process by baking it in the oven!
Ingredients
2 Pears, ripe
2 Tbsp. Water
1 tsp. Maple Syrup
1 tsp. Ground Cinnamon
4 Raisins
Instructions
Preheat the oven to 200 degrees.
Wash the pears and peel them. Line and oven safe dish with foil and put the peeled pears in the dish.
In a small bowl, mix water, maple syrup and cinnamon. Pour it over the pears and cover with another sheet of foil.
Bake for at least 20 minutes, until tender. Decorate with your favorite toppings such as dried fruit to make your spooky ghost eyes!