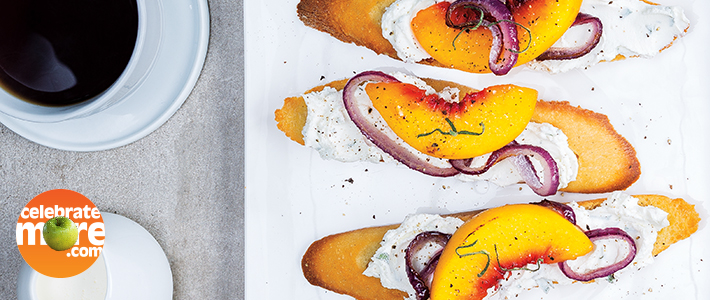 Goat Cheese & Roasted Peach Toasts
Ingredients
1 (14-Oz.) Vienna Baguette, cut diagonally into 12 (½-inch-thick) slices
Olive Oil nonstick cooking spray
12 Peach Slices, fresh or frozen (thawed)
1 Small Red Onion, thinly sliced
2 Tbsp. Unsalted Butter, melted
1 Tbsp.

Four Brothers

Maple Syrup
1 Package (8 ounces) Chèvre Goat Cheese, softened
1 Tbsp. Fresh Sage, finely chopped plus additional for garnish
1 tsp Fresh Cracked Black Pepper plus additional for garnish
Instructions
Adjust 2 oven racks to upper and lower positions; preheat oven to 425°F. Line 2 rimmed baking pans with parchment paper.
Place baguette slices in single layer on 1 prepared pan; spray with nonstick cooking spray. In medium bowl, toss peaches, onion, butter and syrup; spread on second prepared pan.
Bake bread 10 minutes or until crisp, turning once; bake peach mixture 25 minutes or until tender and caramelized, turning once.
In large bowl, with mixer on medium speed, beat cheese, sage and pepper 3 minutes or until smooth and fluffy. Spread cheese mixture onto baguette toasts; top with peaches and onion slices. Garnish with sage and pepper.
Percent Daily Values are based on a 2,000 calorie diet. Your daily values may be higher or lower depending on your calorie needs.