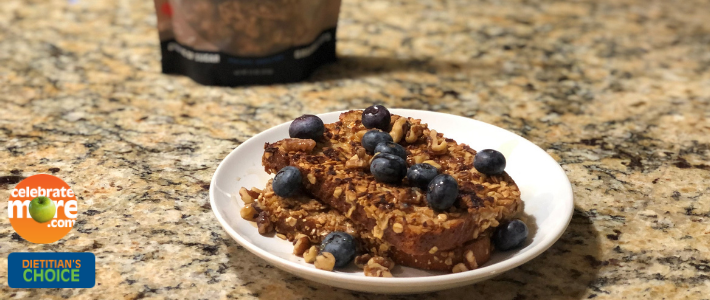 Granola Crusted French Toast
Serving Size
2 Slices French Toast
Ingredients
4 Eggs
1/2 Cup Low Fat Milk
1/3 Cup Maple Syrup
1 tsp Vanilla
3 Cups Hazelnut, Almond and Blueberry Gustola Granola
Cooking Spray
8 Slices Whole Wheat Bread
Optional Toppings: Maple Syrup, Nut Butter, Blueberries, Slivered Almonds
Instructions
In a medium bowl, whisk together eggs, milk, maple syrup and vanilla. Set aside.
Add granola to a food processor and process for about 15 seconds or until granola is broken up into finer pieces. Transfer to a medium bowl. Set aside.
Spray a large skillet with cooking spray and place over medium-low heat.
Take each bread slice and dip into egg mixture, then granola pieces until slice is evenly coated. Cook slices for about 2-3 minutes per side until coating turns a golden brown.
Serve French Toast with your favorite toppings!