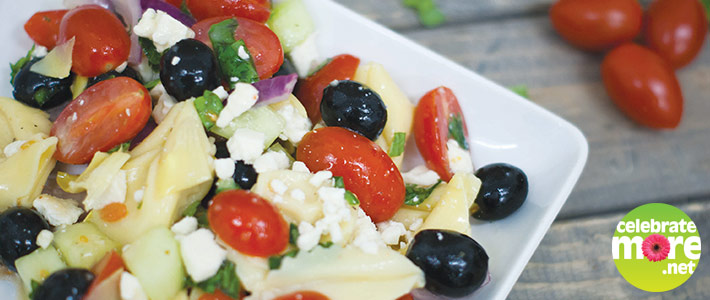 Greek Tortellini Pasta Salad
Ingredients:
16 Oz. Cheese Tortellini Pasta, cooked and cooled
1 Cup Cherry Tomatoes, halved
½ Red Onion, diced
1 Large Cucumber, peeled and chopped
½ Cup Canned Artichoke Hearts, roughly chopped
½ Cup Kalamata Olives (whole or sliced)
½ Cup Crumbled Feta Cheese
⅓ Cup Packed Fresh Basil Leaves, finely chopped
1 Bottle Greek Dressing (use as much as desired)
Directions:
Combine all prepared ingredients into large bowl.
Mix in dressing until well combined.
Eat right away or let chill for 3-4 hours for best results.