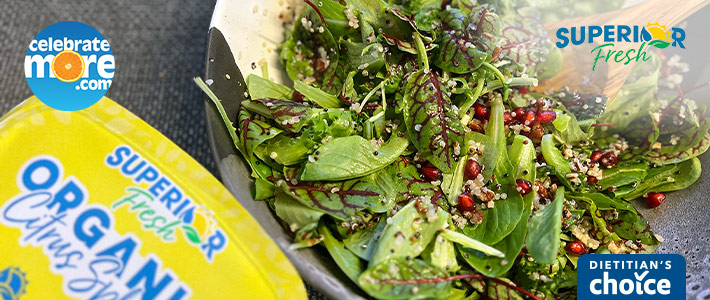 Greens and Grains Winter Salad
Ingredients
Salad
2 Pkgs. Superior Fresh Citrus Splash Greens
Arils from 1 Pomegranate
2 C. Quinoa, cooked
½ C. Pecans, chopped
Crumbled Goat Cheese
Dressing
3/4 C. Olive Oil
1/4 C. Apple Cider Vinegar
1/2 Lemon, juiced
2 Garlic Cloves, minced
1 inch of Fresh Ginger, minced
Pepper, to taste
Instructions
Cook quinoa according to package directions and allow to cool.
In a large bowl, toss the greens, pomegranate arils, and pecans together.
Add cooked and cooled quinoa to the bowl and toss.
In a small bowl or container, whisk together all the dressing ingredients.
Pour 1 cup of the dressing over the salad and toss to combine. Save the remaining dressing to serve with salad.
Top with crumbled goats cheese, if desired.
Notes
Refresh your winter salad with seasonal flavors. The pomegranate arils add color and a burst of sweetness in every bite!
Shop Ingredients