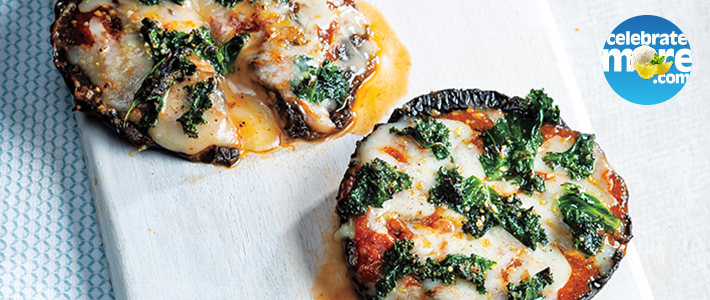 Grilled Garlicky Kale Portobello Pizzas
Ingredients
2 Cups Stemmed Kale, packed and chopped
4 Garlic Cloves, minced
¼ tsp Salt
¼ Tsp Ground Black Pepper
8 Large Portobello Mushroom Caps
1 Cup Marinara Sauce
¾ Cup Mozzarella Cheese, shredded low-moisture part-skim
Instructions
Prepare outdoor grill for direct grilling over medium-high heat. Heat large skillet over medium-high heat; spray with cooking spray. Add kale; cook 2 minutes, stirring occasionally. Add garlic and cook 1 minute, stirring constantly; remove from heat.
Spray both sides of mushrooms with cooking spray; sprinkle with salt and pepper. Place mushrooms, gill side down, on hot grill rack; cover and cook 5 minutes. Turn mushrooms; top with sauce, cheese and kale mixture. Cover and cook 5 minutes or until cheese melts.
Percent Daily Values are based on a 2,000 calorie diet. Your daily values may be higher or lower depending on your calorie needs.