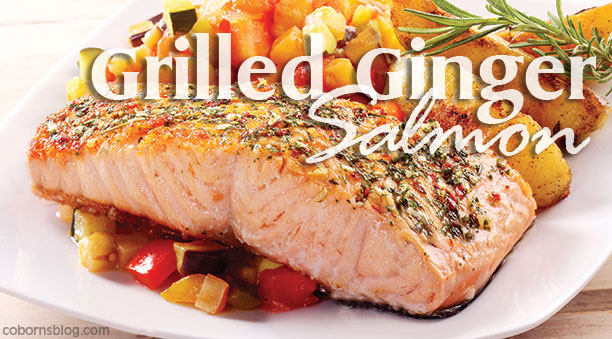 This is one of the easiest recipes you are going to find to prepare salmon. The honey glaze along with the fresh ginger is awesome! Pair it with some fresh asparagus and you have a wonderful summer meal. Enjoy!
Jayne,
Coborn's Inc. Deli & Bakery Merchandising Specialist Team Manager
Grilled Ginger Salmon
Ingredients
2 T. Honey
2 T. Ketchup
2 T. Finely Chopped Gingerroot
1/4 tsp. Salt
1/4 tsp. Red Pepper Sauce
1-1/2 Lbs. Salmon Fillets
Instructions
Heat gas or charcoal grill.
In small bowl, mix all ingredients except salmon.
Carefully brush grill rack with vegetable oil.
Place salmon skin side down and crosswise on grill over medium heat.
Cover and cook for 8 minutes.
Brush all of honey mixture over salmon.
Cover grill; cook 3 to 6 minutes longer and until internal temperature of salmon reaches at least 145 degrees.
Notes
Suggested Wine Pairing Menage a Trois Pinot Noir