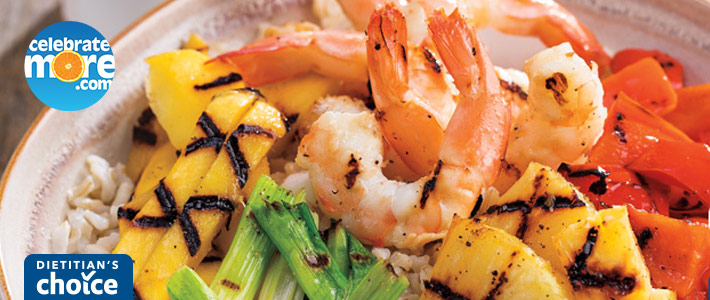 Grilled Hawaiian Shrimp Bowl
Ingredients
Honey-Lime Sauce
3 Garlic Cloves, crushed/minced
3 Tbsp. Fresh Lime Juice
2 Tbsp. Honey
2 Tbsp. Food Club Less-Sodium Soy Sauce
1 1/2 Tbsp. Fresh Ginger, grated and peeled
2 Tbsp. Food Club Canola Oil
1 1/4 Pounds Raw 16-20 Count, Tail-on Peeled and Deveined Shrimp, thawed if necessary
4 (8-inch) Wooden Skewers
1/4 tsp. Salt
1/4 tsp. Ground Black Pepper
Bowl Fillings
1 C. Food Club Uncooked Brown Rice
1 Medium Jicama, peeled, sliced ¼-inch thick
1 Ripe Mango, peeled, pitted and sliced ¼-inch thick
1 Red Bell Pepper, cut lengthwise in half, seeds removed
2 Pineapple Rings
2 Green Onions
2 Tbsp. Food Club Canola oil
Instructions
Prepare Honey-Lime Sauce: In small bowl, whisk together garlic, lime juice, honey, soy sauce and ginger; whisking constantly, drizzle in oil until emulsified.
Prepare outdoor grill for direct grilling over medium heat. Place shrimp in large zip-top plastic bag; pour half the sauce over shrimp. Seal bag, pressing out excess air; let stand 20 minutes. Soak skewers in water 20 minutes.
Prepare Bowl Fillings: Prepare rice as label directs. Coat jicama, mango, bell pepper, pineapple and onions with oil. Remove shrimp from sauce; discard sauce. Thread shrimp onto skewers; sprinkle with salt and pepper.
Place shrimp skewers, vegetables and fruit onto hot grill rack; cover and cook 5 minutes or until shrimp turn opaque throughout and grill marks appear on vegetables and fruit, turning once.
Cut bell pepper, jicama and mango into ¼-inch-thick slices; dice pineapple and cut onions into 1-inch pieces. Evenly divide rice into 4 bowls. Evenly top rice with shrimp, fruits and vegetables; drizzle with remaining sauce.
Notes
Approximate nutritional values per serving: 559 Calories, 15g Fat (1g Saturated), 169mg Cholesterol, 515mg Sodium, 81g Carbohydrates, 10g Fiber, 28g Protein
This Grilled Hawaiian Shrimp Bowl is a nutritious and delicious meal for lunch or dinner that will definitely hit the spot! Our dietitian's are adding new recipes all the time, so check out our Dietitians Choice Recipes page for all their latest recipes!
Shop from the comfort of your home! You can shop online at any of our proud family of stores for these recipe ingredients as well as the rest of your grocery list! We offer curbside pick up at all locations and delivery in select locations as well. Don't forget to connect your MORE Rewards account when you shop online for extra savings, digital coupons, and many other rewards too!
Shop Ingredients