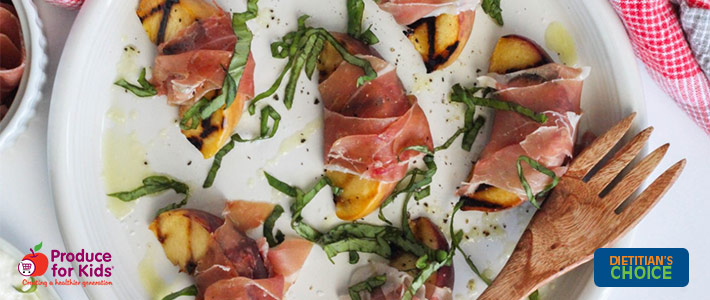 Grilled Peaches with Prosciutto
Ingredients
2-3 Large Ripe Peaches
4-6 Oz. Prosciutto, thinly sliced
4 Oz. Burrata (optional)
2-3 Leaves of Fresh Basil, finely chopped
1 Tbsp. Extra-Virgin Olive Oil, plus more for grilling
Salt and Pepper, to taste
Instructions
Preheat grill (if you don't have access to a grill, a grill pan on the stove would work!). While the grill or pan is getting nice and hot, wash and dry your peaches before cutting them into 4-5 slices each.
Spray or drizzle both sides of each peach slice with a little bit of olive oil and place on the grill. Cook for 2-3 minutes, then flip and cook for another 2-3 minutes on the other side. Remove peach slices from the grill and set aside.
Separate the sliced prosciutto and gently wrap each peach slice in one or two pieces. Arrange on a plate and add burrata, if using.
Drizzle everything with olive oil, season with salt and pepper, and then sprinkle with chopped basil.