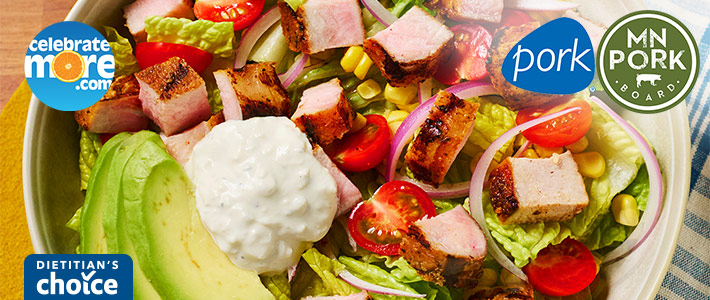 Prep Time
1 hour, 20 minutes
Total Time
1 hour, 35 minutes
Ingredients
1 Lb. Pork Chop
1 tsp. Memphis Dry Rub BBQ Seasoning (sweet, smokey, spicy flavor)
1/2 tsp. Garlic Powder
1/2 tsp. Black Pepper
Salad:
1 Head Romaine Lettuce, chopped
1/2 Avocado, sliced
1 C. Cherry Tomatoes, sliced
1/4 Red Onion, sliced
1/2 C. Yellow Sweet Corn
Blue Cheese Dressing:
1/2 C. Mayo
1/2 C. Sour Cream
1 tsp. White Vinegar
1 C. Crumbled Blue Cheese
Kosher Salt & Black Pepper, to taste
Instructions
Season pork chop with dry BBQ rub, garlic powder & black pepper.
Heat a cast iron grilling pan on medium/medium high heat. Brush with vegetable oil to prevent sticking.
Set grill to medium high heat at 375-400 degrees F. Place the Pork Tenderloin over direct heat for about 3-5 minutes on each side. Then move the Pork Tenderloin to indirect heat until reaching an internal temperature of 145 degrees F. Allow a three-minute rest.
Cut the pork chop into cubes.
Add chopped romaine into a bowl. Top with corn, red onions, and cherry tomatoes.
Add in cubed pork chop. Garnish with avocado slices and add blue cheese dressing, to taste.
Blue Cheese Dressing
Combine all ingredients together in a bowl and let sit for an hour to let flavors develop.
Mix well and add a dollop to your bowl, to taste.
Dive into this Grilled Pork Chop Bowl served atop a delicious and classic cobb salad with a drizzle of blue cheese. Our dietitians are adding new recipes all the time, so check out our Dietitians Choice Recipes page for all their latest recipes!
Shop from the comfort of your home! You can shop online at any of our proud family of stores for these recipe ingredients as well as the rest of your grocery list! We offer curbside pick up at all locations and delivery in select locations as well. Don't forget to connect your MORE Rewards account when you shop online for extra savings, digital coupons, and many other rewards too!
Shop Ingredients