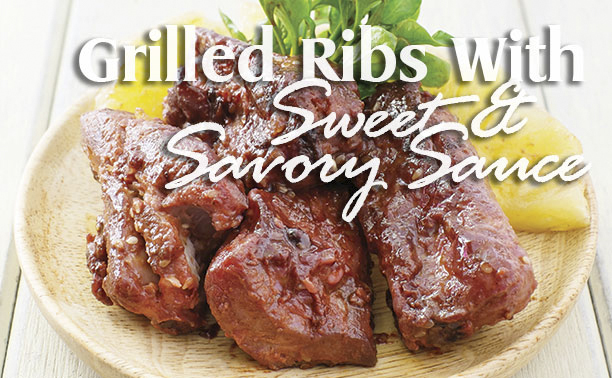 If you want a sweet and sour flavor for ribs this is the recipe for you. I've used this same kind of sauce with meatballs and loved them, so I thought it would be great for pork as well. Wow does it give you some awesome flavor! Enjoy… I did!
Jayne,
Deli & Bakery Merchandising Specialist Team Manager
Grilled Ribs With Sweet & Savory Sauce
Ingredients
1 Cup Chili Sauce
3/4 Cup Grape Jelly
1 T. Plus 1 1/2 tsp. Beef Flavored Broth
1 tsp. Dijon Mustard
4 1/2 Lbs. Country Style Ribs
3 Cups Water
Instructions
To make sauce, in 1-quart saucepan, heat chili sauce, jelly, beef broth and mustard over medium heat, stirring occasionally.
Heat coals or gas grill for indirect heat.
Cut ribs into serving pieces.
Place ribs in 4-quart Dutch oven; add water.
Heat to boiling; reduce heat to low.
Cover and simmer 5 minutes; drain.
Cover and grill pork over medium coals 15 to 20 minutes, brushing with sauce every 3 minutes, until pork reaches an internal temperature of at least 145 degrees.
Heat any remaining sauce to boiling, stirring constantly, boil and stir 1 minute.
Serve with ribs.
Notes
Suggested Wine Pairing Bonterra Merlot