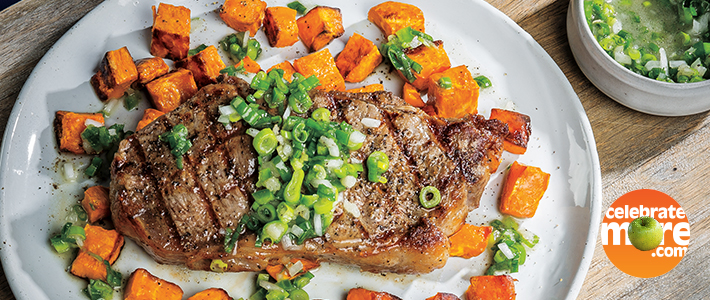 Grilled Strip Steaks with Sweet Potatoes & Scallion Chimichurri
Ingredients
2 Garlic Cloves, minced
1 Bunch Green Onions, chopped
1 Small Jalapeño Pepper, minced
3 Tbsp. Fresh Lime Juice
3 Tbsp. Olive Oil
2 Tbsp. White Onion, minced
2 Tbsp. White Wine Vinegar
1½ tsp Kosher Salt
1 tsp Fresh Ground Black Pepper
2 Large Sweet Potatoes, peeled and chopped
4 Boneless New York Strip Steaks (about 8 ounces each)
Instructions
Preheat oven to 400°F; line rimmed baking pan with parchment paper. In small bowl, stir garlic, green onions, jalapeño, lime juice, 2 tablespoons oil, white onion, vinegar, and ½ teaspoon each salt and black pepper; let stand 30 minutes.
Prepare outdoor grill for direct grilling over medium-high heat. In large bowl, toss potatoes and remaining 1 tablespoon oil; spread on prepared pan and roast 30 minutes or until fork-tender.
Sprinkle steaks with remaining 1 teaspoon salt; let stand 20 minutes. Pat steaks dry with paper towel; sprinkle with remaining ½ teaspoon black pepper. Place steaks on hot grill rack; cover and cook 10 minutes or until internal temperature reaches 135°F for medium-rare, turning once. Transfer steaks to cutting board; tent with aluminum foil and let stand 10 minutes. (Internal temperature will rise to 145° upon standing for medium-rare.)
Serve steaks over sweet potatoes topped with chimichurri.
Grilled Strip Steaks with Sweet Potatoes & Scallion Chimichurri is a colorful and delicious meal for all you steak lovers. Here's one to try next time – Grilled Chile-Coffee T-Bone Steak with Black Bean & Sweet Corn Salad.
Shop from the comfort of your home! You can shop online at any of our proud family of stores for these recipe ingredients as well as the rest of your grocery list! We offer curbside pick up at all locations and delivery in select locations as well. Don't forget to connect your MORE Rewards account when you shop online for extra savings, digital coupons, and many other rewards too!
Shop Ingredients