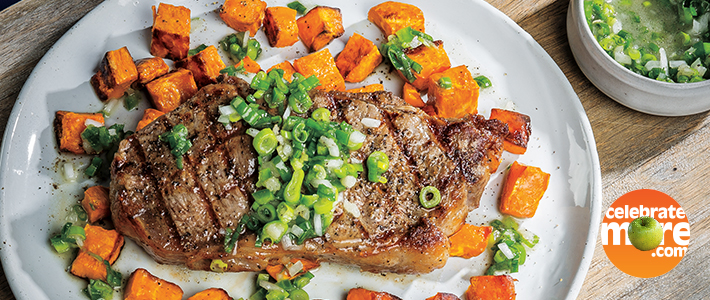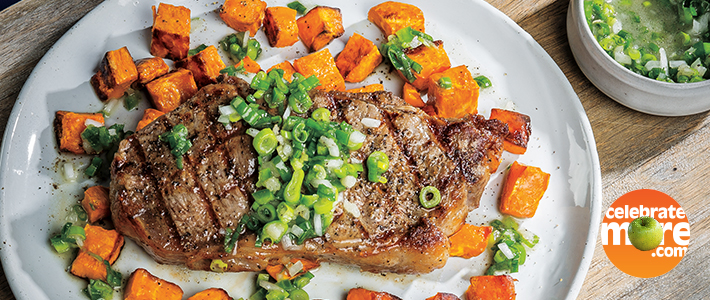 Grilled Strip Steaks with Sweet Potatoes & Scallion Chimichurri
Ingredients
2 Garlic Cloves, minced
1 Bunch Green Onions, chopped
1 Small Jalapeño Pepper, minced
3 Tbsp. Fresh Lime Juice
3 Tbsp. Olive Oil
2 Tbsp. White Onion, minced
2 Tbsp. White Wine Vinegar
1½ tsp Kosher Salt
1 tsp Fresh Ground Black Pepper
2 Large Sweet Potatoes, peeled and chopped
4 Boneless New York Strip Steaks (about 8 ounces each)
Instructions
Preheat oven to 400°F; line rimmed baking pan with parchment paper. In small bowl, stir garlic, green onions, jalapeño, lime juice, 2 tablespoons oil, white onion, vinegar, and ½ teaspoon each salt and black pepper; let stand 30 minutes.
Prepare outdoor grill for direct grilling over medium-high heat. In large bowl, toss potatoes and remaining 1 tablespoon oil; spread on prepared pan and roast 30 minutes or until fork-tender.
Sprinkle steaks with remaining 1 teaspoon salt; let stand 20 minutes. Pat steaks dry with paper towel; sprinkle with remaining ½ teaspoon black pepper. Place steaks on hot grill rack; cover and cook 10 minutes or until internal temperature reaches 135°F for medium-rare, turning once. Transfer steaks to cutting board; tent with aluminum foil and let stand 10 minutes. (Internal temperature will rise to 145° upon standing for medium-rare.)
Serve steaks over sweet potatoes topped with chimichurri.
Percent Daily Values are based on a 2,000 calorie diet. Your daily values may be higher or lower depending on your calorie needs.