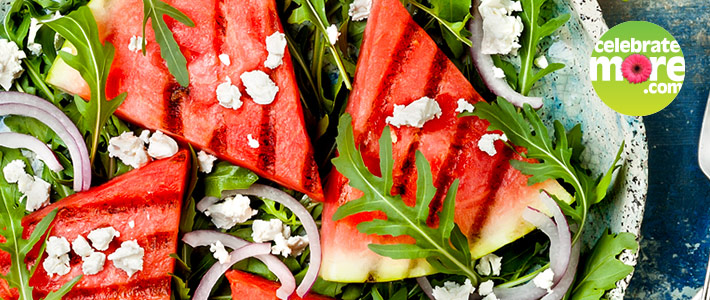 Ingredients
1 large red onion, cut into 1/2-inch-thick rounds
3 tablespoons canola oil
1 seedless watermelon (about 3 to 4 pounds), rind removed, cut into 2-inch-thick half moons
1 cup crumbled feta cheese
2 tablespoons balsamic vinegar
1 teaspoon salt
1/2teaspoon ground black pepper
2 cups arugula or baby spinach for garnish (optional)
Instructions
Prepare outdoor grill for direct grilling over medium-high heat. Brush both sides of onion rounds with 1 tablespoon oil.
Place watermelon and onion on hot grill rack; cook 10 to 12 minutes or until watermelon and onion are charred, turning once halfway through cooking. Remove from grill; let stand 5 minutes.
Cut watermelon into about 1-1/2-inch chunks and chop the onion. In large bowl, toss cheese, vinegar, salt, pepper, watermelon, onion and remaining 2 tablespoons oil. Serve immediately over arugula, if desired. Makes about 7 cups.
Percent Daily Values are based on a 2,000 calorie diet. Your daily values may be higher or lower depending on your calorie needs.