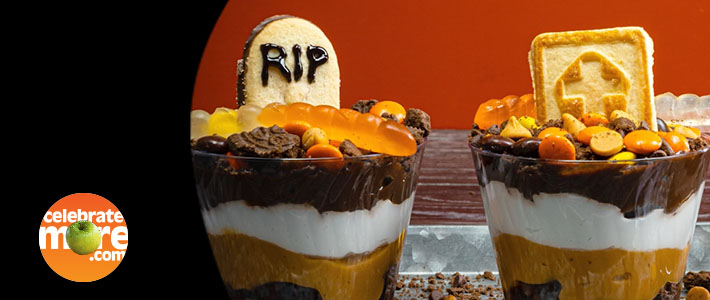 Halloween Graveyard Parfaits
Ingredients
1 Package (3.4 Oz.) instant butterscotch pudding
1 Package (3.4 Oz.) instant chocolate pudding
8 Brownie Bites, chopped
2 Cups Whipped Topping
16 Chocolate Creme Sandwich Cookies, crushed
1/2 Cup Candy-Coated Peanut Butter Pieces
8 Butter and/or Dark Chocolate Sandwich Cookies
8 Gummy Worms
Instructions
In two separate bowls, prepare puddings as label directs.
In 8 (8-ounce) glasses, layer 1/4 cup each brownie bites, butterscotch pudding, whipped topping and chocolate pudding; top with chocolate cookies, candy-coated peanut butter pieces, butter cookies and gummy worms.
Notes
For added spooky decor, use black gel icing to write "RIP" or draw crosses on the dark chocolate sandwich cookies to resemble gravestones.
Percent Daily Values are based on a 2,000 calorie diet. Your daily values may be higher or lower depending on your calorie needs.