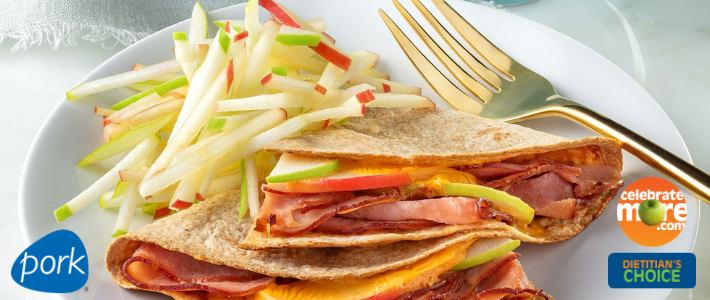 Ham, Cheddar & Apple Quesadilla
Let the kids do the cooking with this easy to prepare whole grain ham and cheddar quesadilla. Our version makes a few simply healthy swaps.
Ingredients
Non-Stick Cooking Spray
4 Whole Wheat Tortillas (small)
1 Tbsp. Honey Mustard
8 Slices Deli Ham
1/2 Honeycrisp Apple, sliced thinly
4 Slices Cheddar Cheese
1/2 Honeycrisp Apple, shredded
Instructions
Heat oven to 400° F.
Spray baking sheet with cooking spray. Arrange 4 tortillas on baking sheet. Brush each tortilla with honey mustard. Top half of each tortilla with 2 slices of ham. Top ham with apple slices and cheddar cheese. Fold tortilla in half. Bake in 400°F oven 11 to 13 minutes or until quesadillas are lightly browned and edges are crisp. To serve, top with shredded apple and serve with a side salad.
Notes
This recipe was created in partnership with our friends and farmers at the National Pork Board.