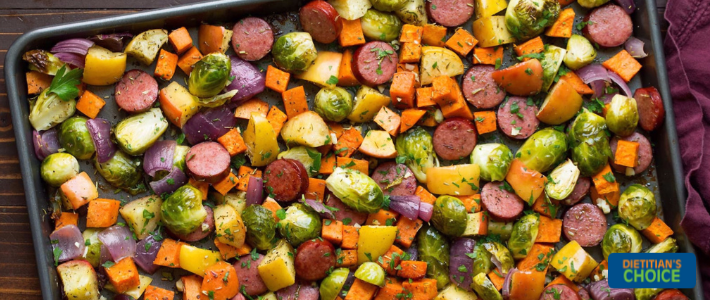 Harvest Vegetables and Sausage Sheet Pan Dinner
Kick off the Autumn season with our harvest inspired sheet pan dinner! Modify this recipe with your favorite proteins and vegetables for a tasty & nutritious dinner with easy clean up.
Ingredients
1 Package Smoked Andouille Chicken Sausage
4 Tbsp. Olive Oil
2 Garlic Cloves, minced
1 Tbsp. Fresh Rosemary, chopped
3 Cups Butternut Squash, cubed
3 Cups Brussels Sprouts, halved
1 Red Onion, cut into chunks
1 Honeycrisp Apple, cut into chunks
Instructions
Wash hands with soap and water.
Preheat oven to 425°F and prepare a 28x13 sheet pan by lining it with parchment paper or non-stick cooking spray.
After washing and preparing the produce, combine cubed butternut squash, Brussels sprouts, onion, and apple with 2 Tbsp. of olive oil, rosemary and garlic. Set aside.
On a clean cutting board, cut sausage into slices, season with remaining olive oil and salt & pepper to taste. Then add into bowl with seasoned vegetables and apples.
Spread the mixture onto the sheet pan in an even layer. Roast in a 425° F oven on the middle rack for 25-30 minutes, tossing halfway through. Cook until sausage and vegetables are golden brown and cooked to an internal temperature of 165°F as measured with food thermometer.
Notes
Dietitian's Tip: Look for sausage with lower sodium and lower saturated fat. One of our favorites is Gilberts Smoke Andouille Chicken Sausage.