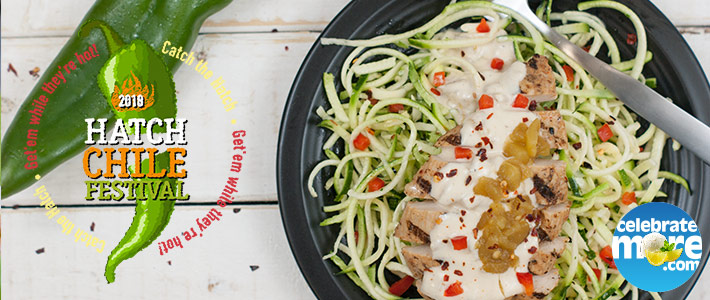 Hatch Chile Chicken Alfredo
Ingredients
4 Boneless, Skinless Chicken Breasts
4 Tbsp Olive Oil, divided
Melissa's Hatch Chile Powder
Salt
3 Tbsp Minced Garlic
1/4 Cup Dry White Wine
3 Cups Heavy Cream
1 Cup Roasted, Peeled, Stemmed, Seeded and chopped Hatch Chiles
1 Lb. Uncooked Fettuccine or Zucchini Noodles
3/4 Cup Grated Parmesan, divided
1 tsp Fine Sea Salt
1 tsp Freshly Ground Black Pepper
1/2 Cup Thinly Sliced Green Onion, for garnish
Instructions
Preheat oven to 350ºF. If using fettuccine noodles, bring large pot of salted water to a boil
In large cast-iron skillet, heat 2 Tbsp olive oil over high heat until shimmering. Season chicken with Hatch Chile powder and salt. Brown chicken in skillet, 2-3 minutes per side.
Transfer chicken to baking sheet and bake until internal temperature reaches 165ºF on an instant-read thermometer, about 10 minutes. Let cool slightly, then slice into strips.
Heat cast-iron skillet over medium heat and ad the 2 remaining Tbsp of oil along with garlic. Sauté garlic 2-3 minutes until lightly browned. Stir in wine,then add in heavy cream. Bring mixture to a simmer and cook until sauce is creamy and reduced by half, 10-15 minutes.
Add chiles and chicken to sauce, store to coat and keep warm.
Meanwhile, cooke fettuccine al dente according to package directions; drain. If using zucchini noodles, heat medium saucepan with olive oil, add zucchini and any desired seasonings. Fry, stirring occasionally, to desired doneness.
Add 1/2 cup parmesan to the sauce and season with sea salt and pepper.
To serve, place pasta or zucchini on large rimmed plate and top with cream sauce. Garnish with green onions and remaining parmesan.