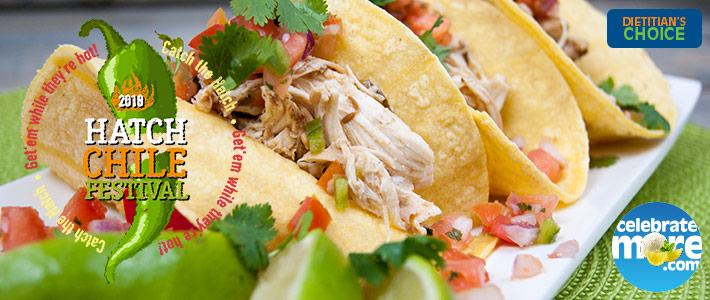 Hatch Chile Slow Cooker Chicken Tacos
Ingredients
1 Tbsp. Olive Oil
2 Lbs. Boneless Skinless Chicken Breasts
1 tsp Cumin Seeds
1 tsp Ground Cumin
1 tsp Garlic Powder
1 Tbsp. Mrs. Dash Southwest Chipolte Seasoning
1 tsp Salt
1 tsp Black Pepper
1/2 Cup Low Sodium Chicken Broth
2 1/2 Tbsp. Lime Juice
1 Cup Onion, chopped
1/2 Cup Roasted Hatch Chiles, peeled, seeded and chopped
Whole Wheat Tortillas or Corn Tortillas
Optional Toppings
Limes Wedges
Pico de Gallo
Avocado Slices
Fresh Cilantro
Instructions
Pour in 1 Tbsp olive oil on bottom of slow cooker. Add in chicken breasts and evenly season the chicken with cumin seeds, ground cumin, garlic powder, chipolte seasoning, salt and pepper.
Add in lime juice, onions, chopped hatch chiles, and chicken broth. Stir to be sure everything is covered.
Set slow cooker on low and cook for 4-5 hours.
Shred the chicken with a fork and cook on low for another 30 minutes.
Serve on tortillas and top with fresh lime juice, Pico de Gallo, avocado slices, and fresh cilantro.
Notes
This shredded chicken is great to add on top of salads for a quick and easy meal. For extra spice, add additional southwest seasoning or chopped jalapeno peppers.
If Hatch Chiles are not in season, you can substitute them with Anaheim Peppers.