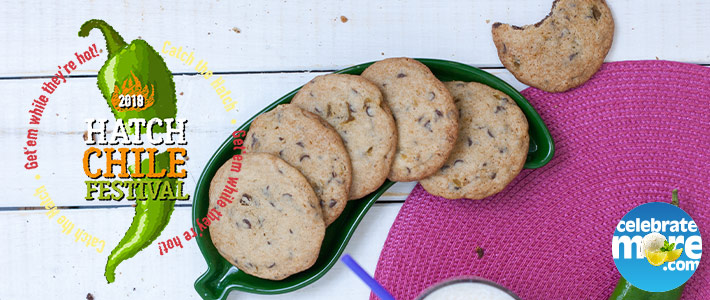 Hatch Chile Chocolate Chip Cookies
Ingredients
8 Oz. (2 Sticks) Unsalted Butter, softened
1 Cup Granulated Sugar
1 Cup Packed Brown Sugar
2 Eggs
2 tsp Vanilla Extract
3 Cups All-Purpose Flour
1 tsp Baking Soda
1/2 tsp Salt
2 Cups Semisweet Chocolate Chips
2 Hatch Chiles, roasted, peeled, stemmed, seeded and finely chopped
Instructions
Preheat oven to 350ºF.
Use a handheld mixer or stand mixer to cream together butter and sugars until smooth. Beat in eggs one at a time, then stir in vanilla.
Stir in flour, baking soda and salt, then mix in chocolate chips and chiles.
Drop dough by large spoonfuls onto uncreased baking sheets, or sheets lined with parchment paper. Bake until cookies begin to brown, about 10 minutes.
Cool on wire rack.