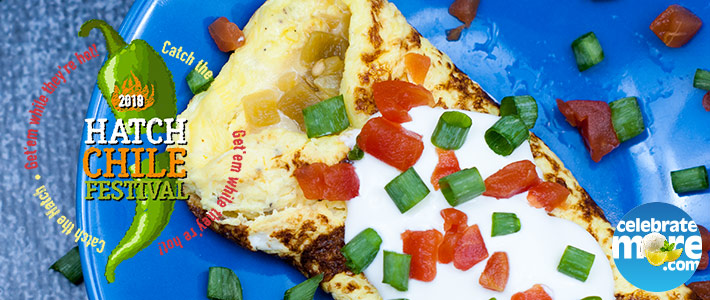 Ingredients
Cooking Spray
2 Large Eggs
2 Tbsp Whole Milk
1/4 tsp Salt
1 Pinch Black Pepper
1/3 Cup Shredded Low-Fat Pepper Jack Cheese
1 Hatch Chile, roasted, peeled, stemmed, seeded and chopped
2 Tbsp Sour Cream
2 Tbsp Chopped Tomatoes
Instructions
Lightly coat an 8-inch nonstick skillet with cooking spray, then preheat over medium-high heat.
In a mixing bowl, whisk together eggs, milk, salt and pepper until blended, hen pour mixture into pan.
As omelet cooks, gently lift the edges with spatula to allow uncooked egg mixture to run underneath. When egg mixture is no longer runny but still wet, use spatula to loosen edges of omelet and flip over.
Quickly sprinkle cheese and chiles in a line down the center of the omelet and fold the omelet to cover the filling.
Move omelet onto warm plate and top with sour cream, tomatoes or any other desired toppings.