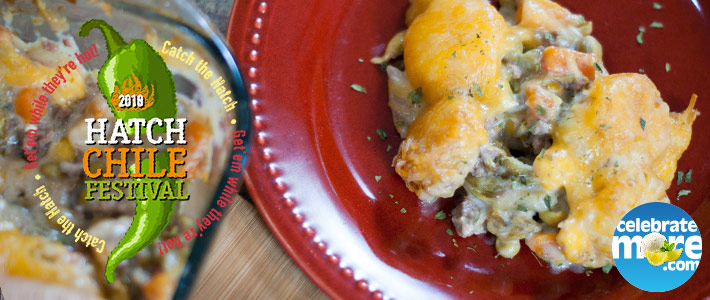 Hatch Chile Tater Tot Hotdish
Ingredients
1 lb. ground beef
½ cup chopped onions
1 can peas, drained
1 can corn, drained
1 can French Style Green Beans, drained
1 can Veg-All, drained
½ cup Roasted Hatch Chiles, chopped
2 cans Cream of Mushroom Soup
½ cup Soy Sauce
1 package tater tots
2 cups shredded cheese
Instructions
Cook ground beef and onions together in a frying pan until fully cooked; drain. 
Place ground beef in 9x13 glass dish. In large bowl combine, peas, corn, beans, Veg-all and Hatch Chiles.
Add mushroom soup and soy sauce and mix all ingredients together, mix well.
Pour mixture over meat in glass dish, then top with a layer of tater tots.
Bake at 350ºF for 45-60 minutes, or until heated through and tots turn golden brown.
Remove from oven and cover generously with cheese. Return to oven for additional 5-10 minutes, or until cheese is fully melted.