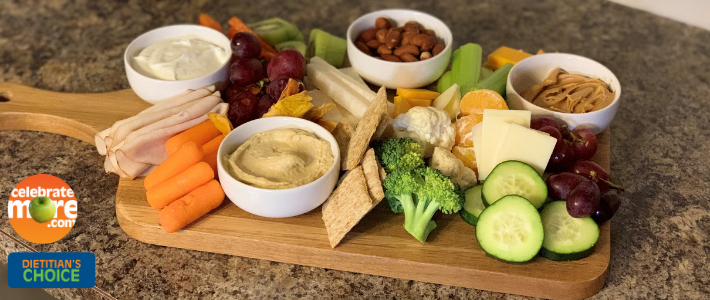 Simple Snack Boards
These healthy snack boards can be great for busy weeknights or lazy weekends when no one wants to cook. Make up your healthy snack board with a variety of fruits and vegetables, lean sources of protein, whole grains, and healthy fats. If you're using this as a snack, focus on getting at least 2-3 food groups on the plate; if you're making one of these for a meal, try to have at least 4 food groups offered on the snack board.
Below are some ideas of what to include on your next Healthy Snack Board. The possibilities are endless!

Ingredients
Produce
Clementines / Citrus
Apple Slices
Grapes
Kiwi
Carrots
Cucumber Slices
Broccoli & Cauliflower Florets
Bell Pepper Slices
Celery Sticks
Dried Mangos or Raisins
Whole Grains
Whole Grain Crackers / Pita Chips
Mini PB & J Sandwiches
Popcorn
Protein/Dairy/Healthy Fats
Deli Meat
Cheese Slices
Greek Yogurt Ranch Dip
Peanut Butter
Almonds/Walnuts/Peanuts
Hummus
Instructions
Thoroughly wash all produce under running water and prepare as needed.
Assemble your healthy snack board with your selected ingredients, focusing on adding color with fruits & vegetables
Notes
These Healthy Snack Boards are a great option for families with kids. You can introduce new foods on here while still pairing them with foods that your kids are familiar with. Focus on adding color through fruits and vegetables. A colorful plate is packed with nutrients such as fiber, vitamins and minerals. Kids can also enjoy a glass of milk along with their serving from the snack board for additional protein and nutrients.