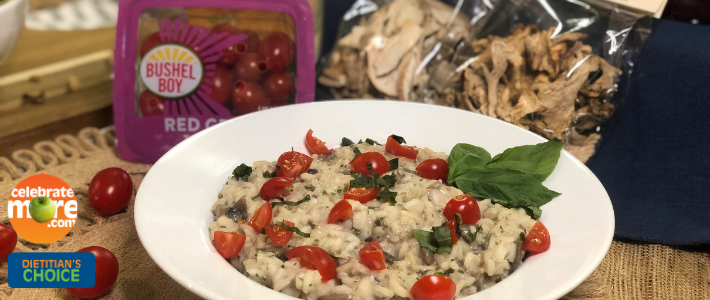 Hearty Mushroom and Tomato Risotto
Ingredients
1 Container Forest Mushrooms (We love the shiitake!), sliced
3/4 Cup Extra Virgin Olive Oil
3 Shallots, finely chopped
3/4 Cup Dry White Wine
6 Cups Low Sodium Vegetable Stock
12 Oz. Arborio rice
1/4 Cup Mascarpone Cheese
2 Oz. Finely Grated Parmesan Cheese
1 Container Bushel Boy Grape Tomatoes, cut into quarters
2 Tbsp. Chopped Fresh Basil and Chives
Fresh Parsley Sprigs, for garnish
Instructions
Heat 2 Tablespoons of olive oil in a medium skillet over medium-high heat. Add sliced mushrooms and sauté for about 10 minutes, until caramelized.
In the last 3 minutes, add shallots with an additional 2 Tablespoons of olive oil and cook until softened.
Once the shallots are softened, add white wine and cook until reduced. Set aside
While mushrooms are cooking, add vegetable stock to a large saucepan and bring to a boil.
Once the stock is boiling, add rice and boil for 5 minutes. After 5 minutes, drain the rice over a glass or metal bowl, reserving the stock.
Spread the rice out on a baking sheet to cool.
Add blanched rice to the mushroom/shallot mixture. Gradually stir in the reserved stock, a little at a time, continuing to add just enough to achieve a creamy consistency. Cook until the grains are just al dente, which is soft but still a bit crunchy.
Add mascarpone and half the Parmesan to the rice mixture.
Once cheese is melted, stir in the chopped tomatoes and herbs.
Top with remaining Parmesan and parsley sprigs just for serving.