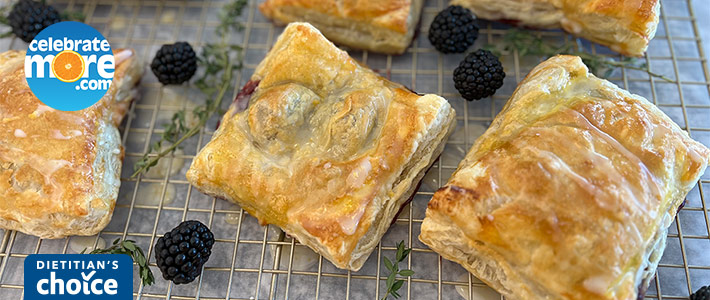 Herbed Blackberry Strudel
Ingredients
2 Puff Pastry Sheets, thawed to room temperature
6 Oz. Blackberries
1 C. Sugar Free Blackberry Jam
1 Tbsp. Fresh Thyme
1 Egg, beaten
3/4 C. Powdered Sugar
Zest of 1 Lemon
2 Tbsp. Lemon Juice
1/8 tsp. Vanilla
Instructions
Preheat the oven to 400F and prepare a baking sheet with parchment paper.
Allow your puff pastry to thaw, then roll each puff pastry out into a thin sheet. Cut each sheet into 6 rectangles, making 12 total.
In the center of the rectangles place 1 1/2 Tbsp. of blackberry jam, leaving about ½ inch around the boarder.
Top with blackberries and a pinch of fresh thyme.
Spread the egg wash around the perimeter of your pastry sheet. Top with a second pastry sheet, press and pinch to glue them together.
Brush your egg wash on each of the strudels and use a fork to poke a hole in each top.
Bake in the oven for 20 minutes or until golden.
While the strudels bake, make the lemon glaze: Mix the powdered sugar, lemon zest, lemon juice, and vanilla in a small bowl.
When the strudels are done baking, pull them out of the oven and allow to cool. Use a spoon to drizzle the lemon glaze over top and enjoy!
Herbed Blackberry Strudels are so much better than the frozen breakfasts you grew up with – and healthier too! Plus, we even have a recipe for another flavor… try these Strawberry Basil Strudels. too!
Shop from the comfort of your home! You can shop online at any of our proud family of stores for these recipe ingredients as well as the rest of your grocery list! We offer curbside pick up at all locations and delivery in select locations as well. Don't forget to connect your MORE Rewards account when you shop online for extra savings, digital coupons, and many other rewards too!
Shop Ingredients