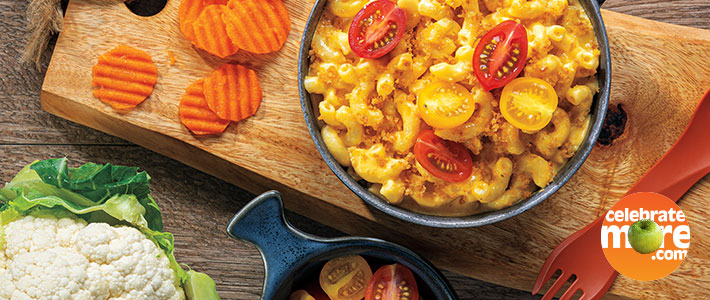 Hidden Veggie Mac and Cheese
Ingredients
16 Oz. Package Small Elbow Macaroni
10 Oz. Package Frozen Riced Cauliflower
3 Cups Whole Milk
2 Cups Frozen Crinkle Cut Carrots
2 Tbsp. Unsalted Butter
2 Tbsp. All-Purpose Flour
½ tsp Kosher Salt
¼ tsp Black Pepper
4 Oz. Package Cream Cheese, cubed
2 Cups Mild Cheddar Cheese, shredded
Instructions
Prepare elbows as label directs; drain, return to saucepot and cover.
In medium saucepot, cover and cook cauliflower, 2 cups milk and carrots over medium-high heat 10 minutes or until milk is steaming; uncover, reduce heat to medium and cook 5 minutes or until carrots are very tender, stirring frequently. Transfer to blender; purée until smooth.
In large saucepot, melt butter over medium heat; add flour and cook 2 minutes, stirring constantly. Stir in remaining 1 cup milk; heat to a boil over medium-high heat, stirring constantly. Stir in cauliflower mixture, salt and pepper; gradually stir in cheeses until smooth and creamy. Fold in elbows. Makes about 8 cups.
Notes
Hidden veggie cheese sauce is also great served over chicken, broccoli or baked potatoes.
Try serving topped with toasted breadcrumbs and/or halved grape tomatoes.
Percent Daily Values are based on a 2,000 calorie diet. Your daily values may be higher or lower depending on your calorie needs.