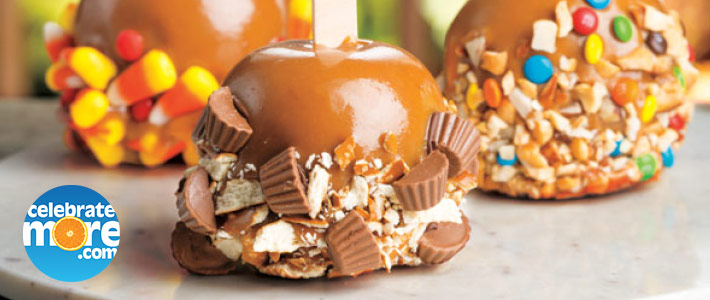 Homemade Caramel Apples
Prep: 35 minutes
Cook: 10 minutes • Serves: 8
Nonstick cooking spray
2
packages (14 ounces each) square-shaped caramels with sticks included
8
large Golden Delicious, Granny Smith or McIntosh apples, stems removed
1/4
cup water
Optional Toppings
2
cups of your favorite toppings such as candy corn, chopped banana chips, chopped dark chocolate, chopped macadamia nuts, chopped mixed nuts, crushed pretzels, mini candy-coated chocolates, cinnamon candies, toasted coconut or chopped mini peanut butter cups
1.Spray cookie sheet with nonstick cooking spray. Insert 1 stick halfway into stem-end of each apple. Unwrap caramels and place in medium saucepan; add water. Heat over medium-low heat 8 to 10 minutes, stirring until caramels are melted and mixture is smooth. Reduce heat to low.

2.Dip and swirl each apple into melted caramel until evenly coated, using a spoon to pour caramel onto apple near the stick and allowing excess to drip off into saucepan. Dip top and roll sides of apples in toppings, if desired, to evenly coat. With gloved hand, lightly press mixture into caramel. Place apples, stick side up, onto prepared cookie sheet. Refrigerate at least 1 hour or up to 2 days. To serve, let apples stand at room temperature 30 to 45 minutes or until caramel softens slightly.


Approximate nutritional values per serving: 

456 Calories, 8g Fat (2g Saturated), 67mg Cholesterol,
243mg Sodium, 97g Carbohydrates, 2g Fiber, 5g Protein

Helpful Tip:
If using chocolate or candy-coated chocolates for toppings, freeze 15 minutes before using.