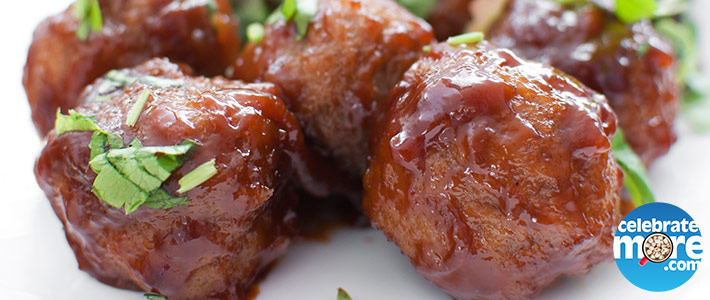 Ingredients
2 Large Eggs
¾ Cup Milk
1 Cup Dry Bread Crumbs
¼ Cup Onion, finely chopped
2 tsp Salt
2 Lbs. Ground Beef
4 Garlic Cloves, minced
1 Tbsp Butter
¾ Cup Ketchup
½ Cup Honey
3 Tbsp Soy Sauce
Instructions
In a large bowl, combine eggs and milk. Add bread crumbs, onion and salt. Crumble beef over mixture and mix well.
Shape into 1" balls. Place on greased racks in shallow baking pans. Bake, uncovered, at 400ºF for 12-15 minutes or until meat is no longer pink.
Meanwhile, in a large saucepan, sauté garlic in butter until tender.
Stir in ketchup, honey and soy sauce and bring to a boil. Reduce heat; cover and simmer for 5 minutes.
Drain meatballs and add to honey glaze. Carefully stir to evenly coat.
Cook for additional 5-10 minutes. Serve hot.