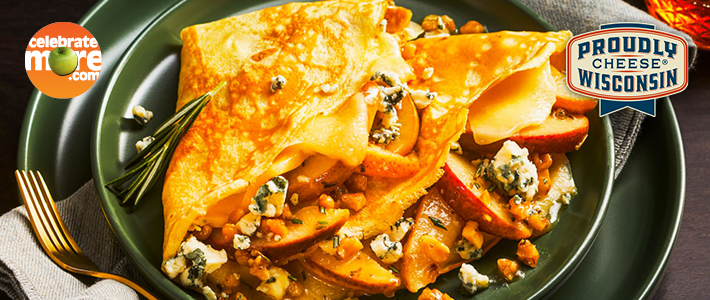 Honey-Kissed Pears and Blue Cheese Crepes
Tender crepes are topped and folded with honey-kissed pears, nuts and creamy Wisconsin blue cheese. They're perfect for a dinner party or weekend brunch!
Ingredients
2 Tbsp. Butter, cubed
2 Medium Fresh Pears, cored and thinly sliced
1/3 C. Chopped Walnuts
1 Tbsp. Honey
1 Tbsp. Lemon Juice
1 tsp. Minced Fresh Rosemary
4 Store-Bought Crepes
4 oz. Roth Creamy Havarti cheese, shredded (1 Cup)
1 C. Roth Buttermilk Blue® Cheese Crumbles (6 oz.)
Honey, warmed
Fresh Rosemary Leaves
Instructions
Melt butter in a large, nonstick skillet over medium heat. Add pears and walnuts; cook and stir for 3-5 minutes or until pears begin to soften. Add the honey, lemon juice and rosemary. Cook and stir for 3-4 minutes longer or until pears are tender. Transfer pear mixture to a bowl. Wipe out the pan.
Warm one crepe in the same pan over medium heat. Layer with a fourth of the havarti, pear mixture and blue cheese on half of the crepe. Fold crepe in half; cook for 2-3 minutes or until havarti is melted. Fold crepe in half again, forming a triangle. Transfer crepe to a serving platter; tent with aluminum foil. (Or cover and place in a warm oven.) Repeat step with remaining crepes and filling.
Drizzle crepes with honey. Garnish with rosemary.