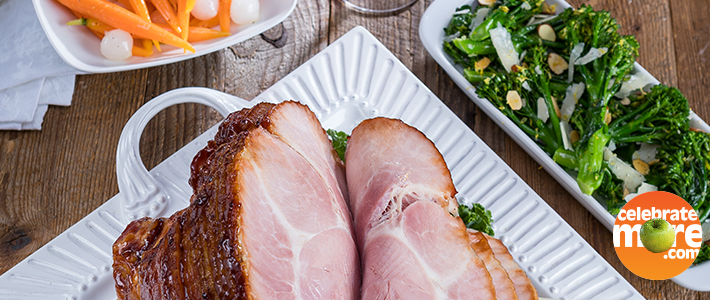 Hot Honey-Red Currant Glazed Ham
Cook Time
1 hour, 45 minutes
Total Time
2 hours, 25 minutes
Ingredients
1 (7- 8 Lb.) Spiral Sliced Bone-in Half Ham
4 C. Dry Red Wine (such as Cabernet Sauvignon or Merlot)
24 Oz. Red Currant Jelly or Jam
1 C. Hot Honey or Honey
2/3 C. Brown Sugar
2 Tbsp. Red Wine Vinegar
2 Tbsp. Yellow Mustard
1 tsp. Less-Sodium Soy Sauce
Instructions
Preheat oven to 325°F. Place roasting rack in large roasting pan. Place ham, cut side down, on rack in pan; add ½ inch water to pan. Cover loosely with aluminum foil. Bake 1 hour.
In small saucepot, heat wine to a boil over medium-high heat; reduce heat to medium-low and simmer 20 minutes or until reduced to 2 cups. Stir in jelly, honey, sugar, vinegar and mustard; increase heat to medium-high. Heat to a boil, stirring frequently; reduce heat to medium-low and simmer 25 minutes or until glaze thickens and is reduced to about 3 cups. Remove saucepot from heat; stir in soy sauce.
Remove ham from oven; spoon some glaze over ham. Bake ham 45 minutes longer or until internal temperature reaches 120°F, brushing ham every 15 minutes with additional glaze. Remove ham from oven. Carefully place ham on serving platter. Cover ham loosely with foil and let stand 15 minutes before serving. Internal temperature will rise to 140°F upon standing.
Pour any drippings from pan into same saucepot with remaining glaze; heat to a boil over medium-high heat. Boil 10 minutes or until glaze thickens; makes about 2¾ cups. Serve ham with glaze.
Percent Daily Values are based on a 2,000 calorie diet. Your daily values may be higher or lower depending on your calorie needs.
This Hot Honey-Red Currant Glazed Ham is the perfect balance of sweet and hot! It's a great way to level up your Holiday Ham! Don't forget a sweet treat for after dinner. This this Cherry-Walnut Amaretto Fudge is quick, easy and makes a perfect treat after a big meal.
Shop from the comfort of your home! You can shop online at any of our proud family of stores for these recipe ingredients as well as the rest of your grocery list! We offer curbside pick up at all locations and delivery in select locations as well. Don't forget to connect your MORE Rewards account when you shop online for extra savings, digital coupons, and many other rewards too!
Shop Ingredients