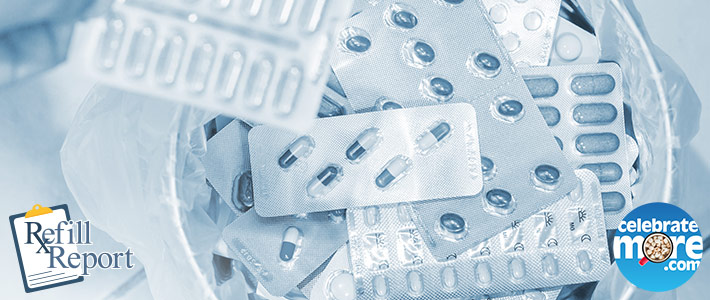 How to Properly Dispose of Your Medications
What do you do with your medications when they are expired or no longer needed? When your medications are no longer needed, they should be disposed of promptly. Patients and caregivers should remove expired, unwanted, or unused medications from their home as quickly as possible to help reduce the chance that others accidentally take or intentionally misuse the unneeded medicine, and to help reduce drugs from entering the environment. There are a couple options for you to consider when disposing of expired, unwanted, or unused medicines.
Your best choices for disposal of unused or expired medicines are:
Medicine take-back options
Disposal in the household trash
Medicine take-back options
These are generally the preferred way to safely dispose of most types of unneeded medicines. There are two main kinds of take-back options: periodic events and permanent collection sites.
Periodic events
The U.S. Drug Enforcement Administration (DEA) periodically hosts National Prescription Drug Take-Back events where temporary collection sites are set up in communities nationwide for safe disposal of prescription drugs. Local law enforcement agencies may also sponsor medicine take-back events in your community. Consumers can also contact their local waste management authorities to learn about events in their area.
Permanent collection sites
Another option for patients and long-term care facilities to dispose of unneeded medicines is to transfer these medicines to permanent collection sites. In your community, authorized permanent collection sites may be in hospital or clinic pharmacies, county offices and law enforcement facilities. Some authorized collection sites may also offer mail-back programs or collection receptacles, sometimes called "drop-boxes," to assist patients in safely disposing of their unused medicines.
Disposal in the household trash with Deterra® Drug Deactivation System
Coborn's, Cash Wise and Marketplace Foods offer the Deterra® Drug Deactivation System at all of its pharmacy locations. The Deterra® Drug Deactivation System is a drug disposal bag which gives patients a safe, convenient and affordable way to dispose of unused medications. The bags can be used to deactivate pills, liquids and patches. This process is as simple as filling the bag with the recommended amount of unused drugs, waiting 30 seconds, sealing the pouch and gently shaking it before disposing it in the trash. The bag contains activated carbon which firmly bonds to the drugs and renders them unusable. The Deterra® Drug Deactivation System helps ensure that unused drugs do not end up in the hands of anyone else. It also keeps pharmaceuticals out of landfills where the potentially dangerous/toxic chemicals could end up in nature.
If you have expired or unwanted medications that you need to dispose of, ask our Pharmacists where the nearest take back options are or if the Deterra bags would fit your needs. Thanks!
Jason,
Pharmacy Clinical Program Manager