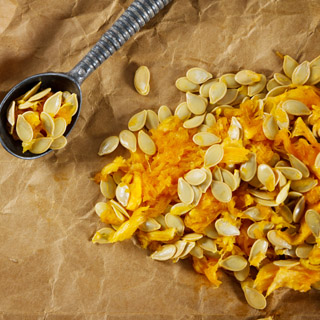 How to Toast Pumpkin Seeds
Leftover pumpkin seeds?
Instead of throwing them away, turn them into a delicious snack.

1. Rinse pumpkin seeds under water, removing any pulp or strings.

2. Toss the pumpkin seeds in olive oil until lightly coated.

3. Spread the pumpkin seeds on a baking sheet that has been coated with nonstick cooking spray.

4. Bake at 325°F for about 30 minutes, or until lightly toasted. Stir occasionally during cooking.

5. Once toasted, remove from oven and lightly season with salt and pepper. To mix up the flavor, try seasoning with garlic powder, cinnamon-sugar, orange zest and ginger, or Cajun seasoning for an extra kick.