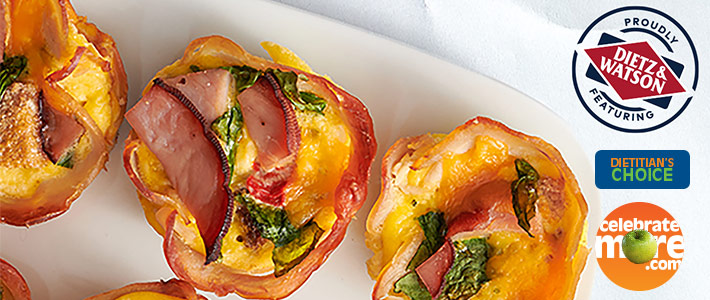 Inside Out Ham & Turkey Cups
Ingredients
1/2 Lb. Dietz & Watson Oven Classic Turkey Breast
1/2 Lb. Dietz & Watson Black Forest Honey Ham
1 Cup Cheddar Cheese
5 Slices Whole Wheat Bread
8 oz. Cream Cheese, softened
2 Eggs
1 tsp. Pepper
1 Large Head of Broccoli
1 Onion
1 Bell Pepper
1/2 Cup Sun-Dried Tomatoes
2 Yellow Squash
2 Cups Fresh Spinach
Instructions
1. Heat oven to 400 degrees. Toast the bread slices until bread is crumbly and no longer soft. Cook and crumble into bite-sizsed pieces. if you're using a toaster oven, toss the Dietz & Watson Black Forest Honey Ham on one side of the cookie sheet and bake until crisp.
While the bread and ham are baking, place the Dietz & Watson Oven Classic Turkey Breast in greased muffin tins, making a cup shape. Bake these in a 400 degree oven for about 10 minutes, until edges of cups start to brown.
While your cups are baking, chop all veggies into bite-sized pieces. Lay veggies out buffet-style so kids can choose what they'd like in their cups.
Beat together eggs, cream cheese, salt, and pepper in a mixer. Fold in bread pieces. Let kids mix in their own ingredients into this mixture...this is a great opportunity to get them involved in the cooking! Pour filling into the cooked turkey cups and the bake for another 15-20 minutes, until tops of the filling start to brown and the egg is set. Serve warm.