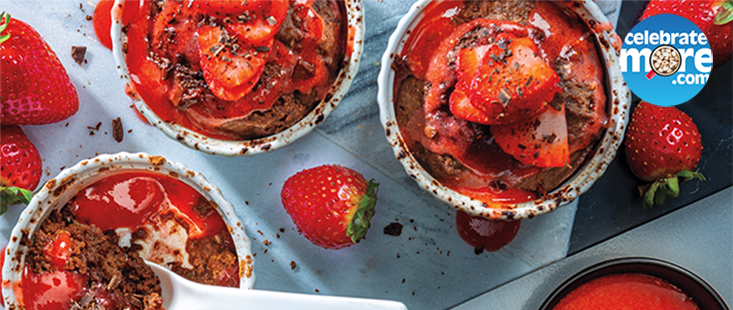 Instant Pot® Chocolate Soufflé Cakes with Strawberry Sauce
Serving Size
Soufflé Cake
Ingredients
1/3 C. Dark Chocolate, chopped, plus additional for garnish (optional)
1/4 C. Cocoa Powder, plus additional for dusting
2 Large Eggs, separated
1/2 C. Unsweetened Applesauce
1/4 C. Milk
2 tsp. Sugar
1 tsp. Vanilla Extract
1/4 C. Almond Flour
1/2 C. Sliced Ripe Strawberries, plus additional for garnish (optional)
Instructions
Place steam rack in bottom of 5-quart Instant Pot; add 2 cups water and preheat on Sauté-Normal. In heatproof bowl on steam rack, heat chocolate 5 minutes or until melted, stirring occasionally.
Spray 4 (6-ounce) ramekins with cooking spray; dust with cocoa powder. In large bowl, whisk egg yolks, applesauce, milk, sugar and vanilla extract until smooth; stir in flour, cocoa powder, ¼ teaspoon salt and melted chocolate until smooth.
In medium bowl, beat egg whites with mixer on high speed 3 minutes or until stiff peaks form; fold egg whites into chocolate mixture. Divide batter into ramekins; place on steam rack. Place lid on Instant Pot and close pressure valve to seal; pressure cook on high 5 minutes. Quick release pressure; remove lid. Remove ramekins; cool 15 minutes.
In blender, purée strawberries. Makes about ¼ cup.
Serve cakes drizzled with strawberry sauce garnished with chopped strawberries and/or chocolate, if desired.
Notes
Chef Tip - If your Instant Pot did not come with a steam rack, use a heatproof trivet or flattened balls of foil.

Approximate nutritional values per serving (1 cake, 1 tablespoon sauce): 206 Calories, 12g Fat (4g Saturated), 94mg Cholesterol, 192mg Sodium, 22g Carbohydrates, 5g Fiber, 14g Sugars, 9g Added Sugars, 7g Protein