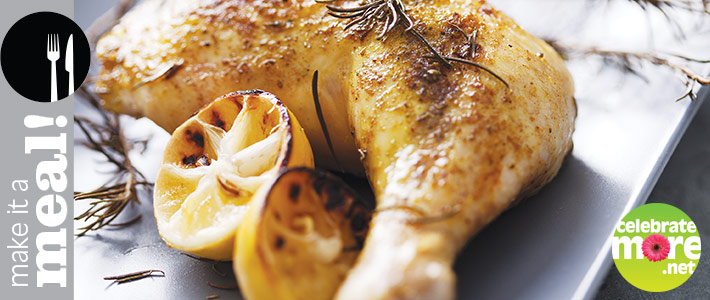 Italian Roasted Chicken Leg Quarters
Ingredients:
2 chicken leg quarters
2 Tbsp butter, melted
¾ tsp Italian seasoning
¼ tsp kosher salt
¼ tsp crushed red pepper
1 Tbsp lemon juice
Lemon slices and fresh rosemary sprigs, for garnish (optional)
Directions:
Preheat oven to 425 degrees F. Lightly oil a baking dish.
Place chicken leg quarters skin-side-up in baking dish. Brush with melted butter.
In a small bowl, combine Italian seasoning, salt and red pepper. Sprinkle seasoning mixture over chicken. Drizzle with lemon juice.
Bake for 50-60 minutes (uncovered), until internal temperature reaches a minimum of 165 degrees F, chicken is no longer pink and juices run clear.