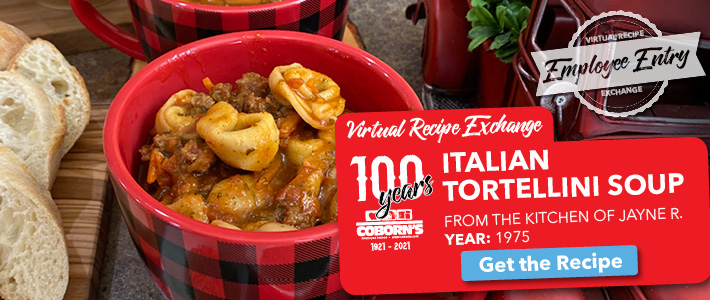 Ingredients
1-1/2 Lbs. Ground Italian Sausage
1 Cup Onion, chopped
2 Fresh Garlic Cloves, chopped
1 Cup Celery, chopped
1 Medium Green Pepper, chopped (optional)
32 Oz. Container Beef Broth
1-1/2 Tbsp. Better Than Bouillon (Roasted Beef Base)
10 Oz. Bag Matchstick Carrots
28 Oz. Can Crushed Tomatoes
3 Cups of Water
2/3 Cup Ketchup
1 Tbsp. Italian Seasoning
2 Tbsp. Parsley
1 tsp Salt
1 tsp Pepper
2 cups Fresh Zucchini, diced
2 Cans Butter Beans, drained
19 Oz. Package Cheese Tortellini
Instructions
In a fry pan sauté Italian sausage until fully cooked. Drain fat and add the meat to a large Dutch oven.
In a separate fry pan sauté onion, garlic cloves, celery, carrots and green pepper. Sauté until tender. Add vegetables to Dutch oven.
Add Better Than Bouillon beef stock, tomatoes, water, ketchup, Italian seasoning, parsley, salt, and pepper. Mix all together.
Bring to boil and simmer for 30 minutes (cover optional).
Stir in zucchini and tortellini. Cover and simmer for 10 more minutes.
Stir in the butter beans (drained), salt, and pepper to taste. Serve and enjoy!