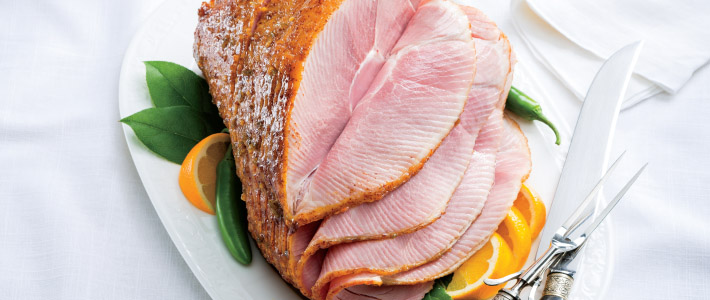 Jalapeño-Mustard Glazed Ham
Prep: 10 minutes plus standing
Cook/Bake: 2 hours 15 minutes • Serves: 12
1
Four Brothers Premium Old Fashioned spiral sliced ham (7 to 8 pounds)
2
cups fresh or refrigerated orange juice
1-1/3
cups packed brown sugar
1
cup Dijon or spicy brown mustard
4
small jalapeño chile peppers, seeded if desired, finely chopped plus additional for garnish
3
garlic cloves, crushed with press
Orange wedges and fresh bay leaves for garnish (optional)
1.Place roasting rack in large roasting pan. Place ham, cut side down, on rack in pan; let stand at room temperature for 30 minutes.

2.Meanwhile, preheat oven to 300°. In small saucepan, heat orange juice, brown sugar, mustard, jalapeño and garlic to boiling over medium-high heat; cook 30 minutes or until glaze is reduced to about 2-1/2 cups, stirring occasionally; remove from heat.

3.Cover ham loosely with aluminum foil. Bake ham 1 hour 30 minutes. Remove ham from oven; increase oven temperature to 400°.

4.Reserve 1-1/2 cups glaze. Brush ham with about 1/2 cup remaining glaze; add 1/2 inch of water to bottom of roasting pan. Bake ham, uncovered, 15 minutes longer or until internal temperature reaches at least 120°, brushing every 5 minutes with remaining glaze.

5.Transfer ham to serving platter; cover loosely with aluminum foil. Let ham stand 15 minutes before serving. (Internal temperature will rise to 140° upon standing.) Garnish ham with orange wedges, bay leaves and jalapeños, if desired, along with reserved glaze.


Approximate nutritional values per serving: 

529 Calories, 14g Fat (3g Saturated), 181mg Cholesterol,
3101mg Sodium, 36g Carbohydrates, 0g Fiber, 67g Protein