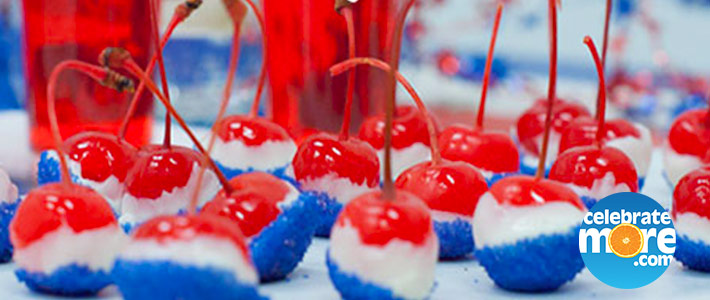 The 4th of July weekend of celebration is upon us! How will you be celebrating? With a potluck? Picnic? Trip to the lake or cabin? No matter the celebration one consistent aspect of any summertime get-together is delicious food and of course… Tasty drinks and liquor ideas!
I adore the 4th of July. The weather is always beautiful, family is abundant and it's the perfect day to kick back, relax and enjoy a beverage or two. This year I decided to try something a little different and I came up with this last minute 4th of July celebratory liquor recipe. Here is an extra fun recipe that all of the adults at your weekend get-together won't be able to get enough of! Moonshine Cherry Bombs! Believe me when I say that these little guys sure carry a kick, but with a name modeled after a firework how could you really expect any less?
To make simply follow these easy instructions and you'll be on your way to a fun-filled celebration in no time!
Place one jar of maraschino cherries in moonshine overnight to soak in a mason jar.
The next day, remove cherries from liquor and set aside.
Set cherries on napkin or cloth to dry so the white chocolate sticks better to the fruit, you may pat cherries to dry lightly if you wish.
Microwave white chocolate chips for 30 seconds stirring occasionally.
Continue to set white chocolate in microwave, stir and repeat until consistency is creamy and smooth.
Next is the fun part! Carefully dip cherries 1/2 of the way into the creamy white chocolate so about 1/3 of the cherry is showing.
Now, while the chocolate is still wet dip 1/2 of the white portion of the cherry into the blue glitter sprinkles. Be sure to lightly touch to cherry to the sprinkles so it isn't too covered. You will want to be able to see all three layers (red, white and blue) separately.
With leftover red "cherry flavored" moonshine that your cherries soaked in over night you can create red colored drinks, shots or try other fruit that has been infused with alcohol.
Please keep in mind that moonshine is of an extremely high alcohol content, so moderation is key with this liquor.
Don't love the idea of mixing maraschino cherries with moonshine? Try a Vanilla Schnapps or a Bacardi Razzberry flavored liquor instead. That way you will still get the adult-only aspect of the treat, but it won't be quite as strong on the tastebuds. Whatever suits you best, I hope you love these firecracker inspired fruits!
Now what do you do with all of that leftover chocolate? You could take a spoon to it, (and probably regret it later) or you could try this next idea. This is what I did with my leftover white chocolately goodness and my coworkers loved it! Simply follow the same steps as you did above (minus the alcohol infusing) and dip your Oreo 1/2 of the way into the white chocolate. Then dip 1/3 of the white chocolate into blue sprinkles and the other 1/3 on the opposite end into red sprinkles. Before you know it even your cookies will be sparkler-inspired!
I hope that this 4th of July inspired blog helps you as you create your Red, White & Blue goodies! Have a safe and happy weekend and enjoy!
Lynell
Coborn's, Inc. Graphic Designer
Click Here for more articles by Lynell