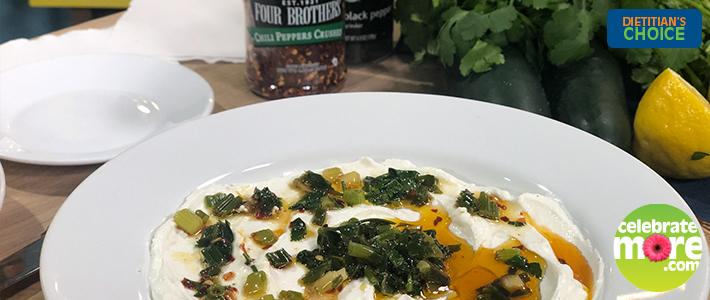 Labneh with Infused Chili Oil
Ingredients
4 Cups Plain Greek yogurt
¾ tsp. Salt
1/3 Cup Olive Oil
4 Scallions, white and green parts thinly sliced
1 tsp. Crushed Red Pepper Flakes
2 Tbsp. Finely Chopped Fresh Cilantro (leaves and tender stems)
Flakey Sea Salt
Freshly ground pepper
2 Tbsp. fresh lemon juice
Instructions
Arrange cheesecloth in a small strainer placed in a bowl. Ensure strainer rests a few inches above bottom of the bowl. Spoon yogurt into strainer and place covered in the refrigerator for 24-48 hours.
Once yogurt has strained, remove labneh from strainer and place in a medium bowl.
Combine Labneh and lemon juice and season with salt and pepper. Set aside.
Heat the olive oil, scallions, crushed red pepper flakes, and cilantro in a small pot over medium-low heat. Cook, stirring occasionally, until the scallions and red pepper flakes start to visually and audibly sizzle and turn the oil a bright orange (note: if your oil doesn't turn red or orange, your chili flakes might be old - just keep an eye on your oil).
Spoon oil mixture on top of labneh. Swirl. Top with extra cilantro, if you like.
Serve with small boiled potatoes, vegetables, pita chips, potato chips are really anything you think will taste good dipped in a salty, slightly spice, creamy dip!