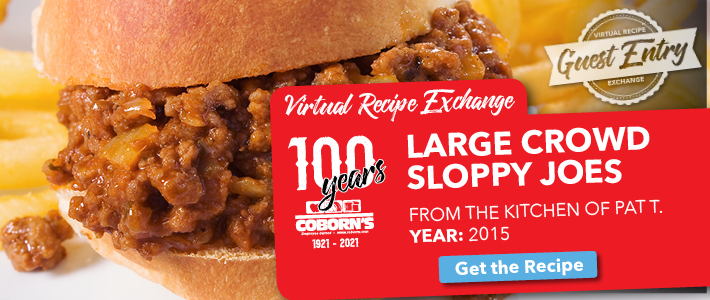 This originally came from a card at Coborn's many years ago. I have never found it on the Coborn's recipe list but I can find it by googling it! These are the best Sloppy Joes – not too loose, so easy and perfect for a crowd. The Becker Area Senior Center folks love these! ~ Pat T.
Ingredients
3 Lbs. 93% Lean Ground Beef
1 Large Onion, coarsely chopped (1 cup)
1-2 Medium Stalks of Celery, chopped (3/4 cup)
1 Cup Barbeque Sauce
2 Cans (15.5 oz.) Sloppy Joe Sauce - I like Manwich
24 Hamburger Buns, split
Instructions
In 3.5-4 qt. slow cooker, cook beef and onions over medium-high heat 5-7 minutes; stir occasionally until beef is thoroughly cooked. Drain.
Mix beef mixture and remaining ingredients (except buns) in slow cooker.
Cover and cook on low heat setting 7-9 hours.
Stir well before serving.
Notes
To serve, fill each bun with 1/3 cup beef mixture. Beef mixture will hold on low setting up to 2 hours. Stir occasionally.