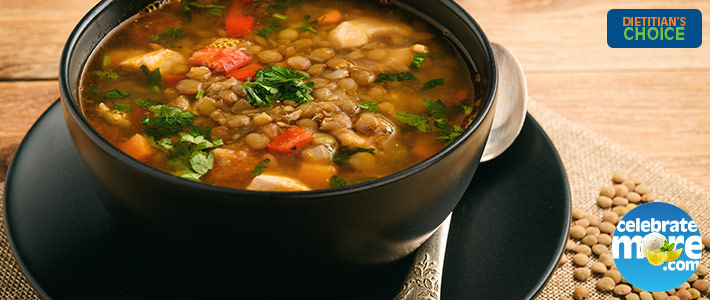 Ingredients
1 Tbsp. Canola Oil
1 Large Onion, chopped
8 Cups Low Sodium Broth
2 Cup Dry Lentils, rinsed
1 Cup Sliced Carrots
1 Can (15 Oz.) Diced Tomatoes
1 Bay Leaf
Salt and Pepper, to taste
Instructions
In a large pot over medium-high heat, add in oil and chopped onion. Saute for 2-4 minutes, or until onion is tender.
Add in the broth, lentils, carrots, tomatoes, bay leaf and a pinch of salt and pepper.
Heat until boiling. Once the soup has reached a boil, reduce the heat to medium-low and let simmer for 3-45 minutes until lentils are soft.
Remove the bay leaf prior to serving.
Notes
Dietitian's Tip: Serve with a side of fresh fruit and a whole grain roll for a complete meal.
Recipe provided by Reach Up Head Start, Early Head Start. Get more recipes here.