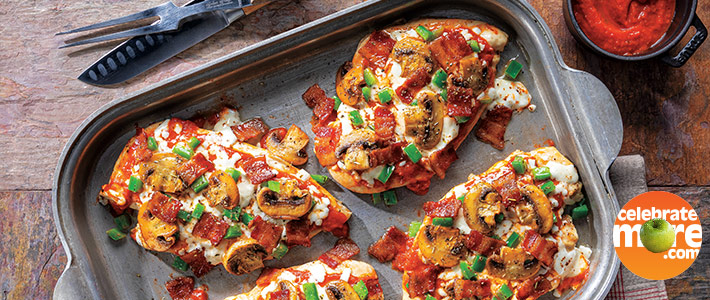 Loaded-Pizza Chicken Breasts
Serving Size
1 chicken breast
Ingredients
4 Slices Applewood Smoked Bacon, chopped
½ (8 Oz.) Package Sliced White Mushrooms
1 Green Bell Pepper, chopped
1 tsp Italian Seasoning
4 Boneless Skinless Chicken Breast Fillets, thawed if necessary
½ Cup Marinara Sauce
¼ (16 Oz.) Package Fresh Mozzarella Cheese, shredded
Instructions
Preheat oven to 400°F; line rimmed baking pan with aluminum foil. In large skillet, cook bacon over medium-high heat 7 minutes or until crisp, stirring frequently; with slotted spoon, transfer to paper towel-lined plate.
Remove and discard all but 1 tablespoon drippings remaining in skillet; add mushrooms, pepper and seasoning. Cook vegetables over medium-high heat 5 minutes or until tender, stirring occasionally; stir in bacon. Makes about 1½ cups.
Place chicken breasts between plastic wrap on cutting board; with flat end of meat mallet, pound to ½-inch thick. Remove plastic wrap; transfer chicken to prepared pan. Top chicken with sauce, cheese and bacon mixture; roast 15 minutes or until internal temperature reaches 165°F and cheese is melted.
Percent Daily Values are based on a 2,000 calorie diet. Your daily values may be higher or lower depending on your calorie needs.