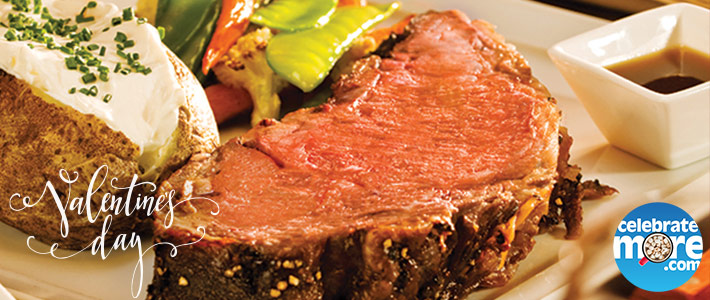 Valentine's Day is only a couple weeks away and it is coming up quickly. I want to be prepared for it so I'm starting to plan now. It's time to show the people in our lives how much we love them.
Change of scenery
I really do love to cook and I find the holiday helps to inspire me to be even more creative in the kitchen. Dinning at home doesn't have to feel like work. Need a change of scenery? Relocate to a different location in your home. How about a picnic on floor by the fireplace? A folding table elegantly set with your finest table linens? What about the dining table that only gets used for special occasions? Mine never gets used so that is the perfect place for that romantic meal. When you eat in spots of your home that are seldom visited it can feel a lot like dining out, but at a fraction of the price tag. Just don't forget the candles and a little light music to set the mood.
Try something new
Don't cook the same old dinner, make it a delicious experience that you both will enjoy. I think having great ingredients with new recipes makes cooking feel like fun instead of the same old dinner routine each week. Try pairing store-bought items like fresh fruit, bakery treats and easy appetizers. If you have kids push dinner back and have it after the kids go to bed so you feel like you get a night away without the expense of a sitter.
Involve the kids
Try starting a new tradition for the kids. Anything that can be cut into a heart is an instant celebration from lunchbox sandwiches to pancakes and even heart-shaped pizzas. Make sure to let them get creative with cards and get the paper, glue and crayons out. When they are involved it becomes a family event with lots of laughter. Something as simple as a Pancake Bear holding a heart is enough to send them off to school with a full heart this Valentine's Day.
Everything is available at Coborn's
So here is what I have come up with for Valentine's Day that you can find at any one of our Coborn's stores.
Coborn's Meat Department
Flame Seared Fully Cooked Pork Ribs
Surf & Turf which includes an 8 oz. NY Strip & 4 oz. Cold Water Lobster
Boneless Rib Eye Steak
Fresh Norwegian Salmon
Coborn's Produce Department
Fresh Asparagus Spears
Chocolate Dipped Strawberries
Coborn's Bakery
Coborn's Floral
Flowers
Stuffed Animals
Candies
Gifts
Now for my biggest challenge for Valentine's Day…making up my mind which items I am going to choose for that very special menu. Yikes! I want them all! Happy Valentine's Day and enjoy!
Jayne
Coborn's, Inc. Merchandising Specialist Team Manager – Bakery and Deli